Could this meteorite that was found on December 31st (18:50 GMT) be the very last find for the year 2009?
The weather forecast for the Sonoran Desert looked perfect and my schedule was free for the last few remaining days of 2009. So I arranged a trip out to the desert and invited some of my friends. My long-time rockhounding partner, James LaBarbera, accepted my invitation. After he drove down from Los Angeles, we transferred his gear into my truck and we headed east towards the Colorado River. And after getting supplies in Yuma AZ, it wasn't long until we were in the middle of "nowhere".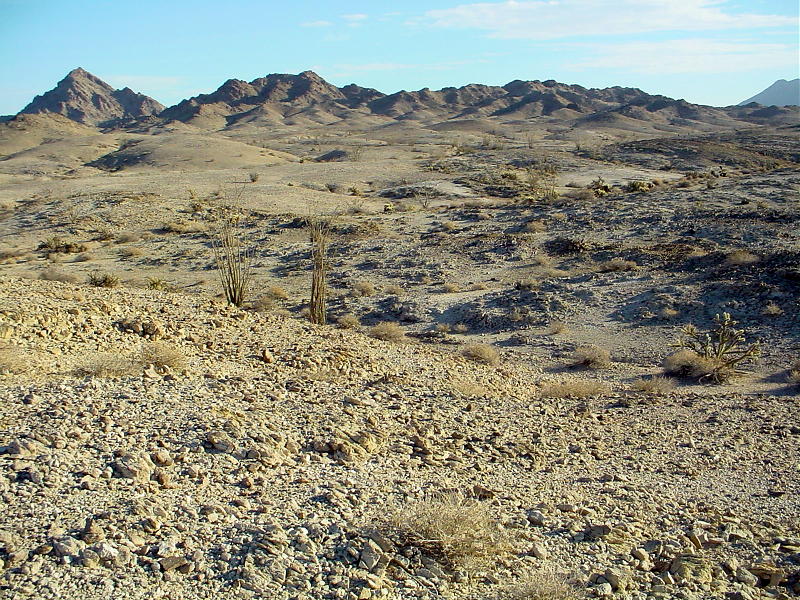 Because of the condition of the dirt roads it would still take 3 more hours of slow driving through a maze of BLM-approved ATV trails until we arrived at the desired spot that I "pre-selected" from study of satellite imagery of the area. Through some strange quirk in cell phone coverage, I am able to track our location on my Blackberry, otherwise this portion of the trip could have easily taken twice as long.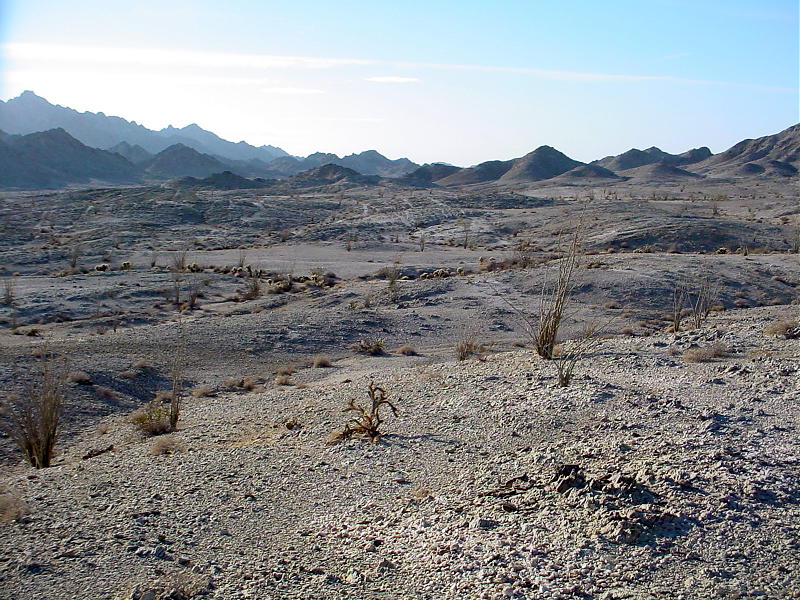 No meteorites were recovered on the first day, but because most of the day was spent just getting to this "pre-chosen" locality, we decide to return directly to this spot to resume searching the next day.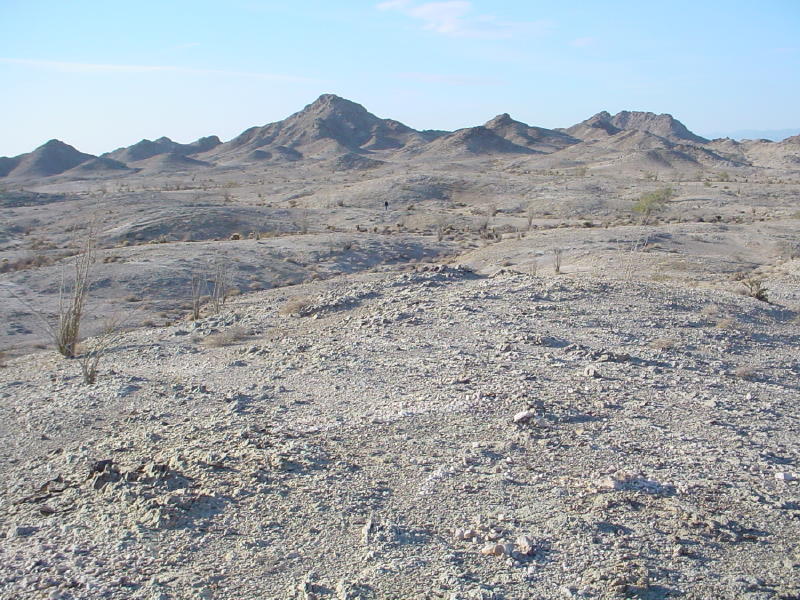 We got a late start, but we eventually found our way back to the same spot from the previous day where I had a "very good feeling" about the surface we were searching. I was a little disappointed to see so many ATV tracks on such a nice surface, but something told me to stop and park the truck immediately. I actually parked just next to a well-used ATV trail. Although having cell phone reception was a god-send for helping us locate this spot, it also made us vulnerable to distracting phone calls. Which was exactly what happened while I was parking the truck: James got a phone call on his cell phone.
Not sure why, but without grabbing any of his gear, James decided to get out of the truck in order to take his phone call. Figuring that James wanted some privacy as he walked around the truck talking on his cell phone, I stayed inside the truck and took my time gearing-up for the morning hike.
It wasn't very long until I heard a tapping sound on the front passenger side window. It was James, still talking on his cell phone, but he was smiling and pointing straight down, which I immediately knew was the "international sign" for "you just parked next to a meteorite – AGAIN!"
The reason I say "again" is because this has happened more than just a couple times in the past. In fact, this happens often enough that we now measure the distance from the truck to the find, and in this case, it was only the 3rd shortest distance! I insist that there is no way, statistically speaking, to explain this phenomenon.
There's another version of the phenomenon that is well-known to meteorite-hunters, in which you hike all day but find nothing, only to return to your vehicle and then find a meteorite lying next to it. So, I'm not complaining. I'd rather have the meteorite found immediately, as opposed to finding it only after hiking all day.
Of course, we hiked all day and didn't find another meteorite.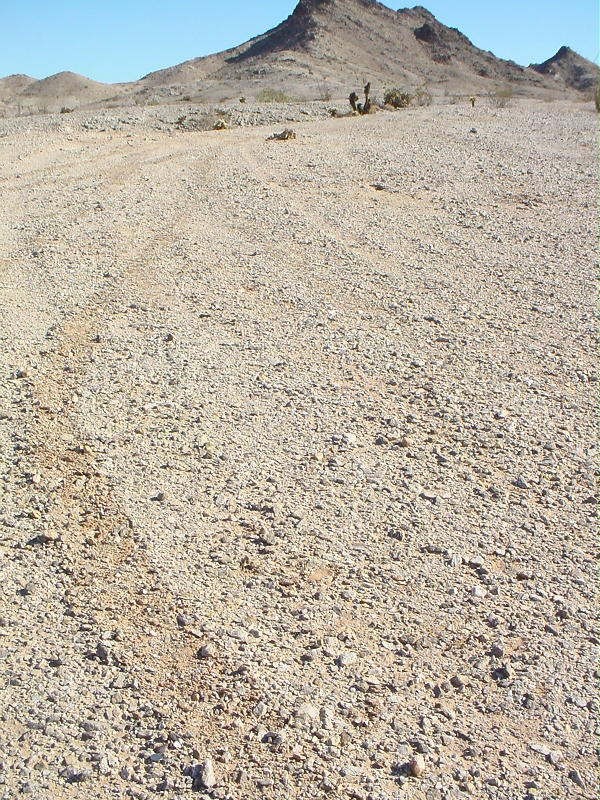 Instead of repeating what I wrote in one of my earlier articles about my method of taking "in-situ" images, I'll just redirect you to my May 2004 article. You can do so by "clicking" on this link below:

"Taking Pictures of Meteorites In-Situ – Images of "in-place" meteorites – as they were found on the ground.
"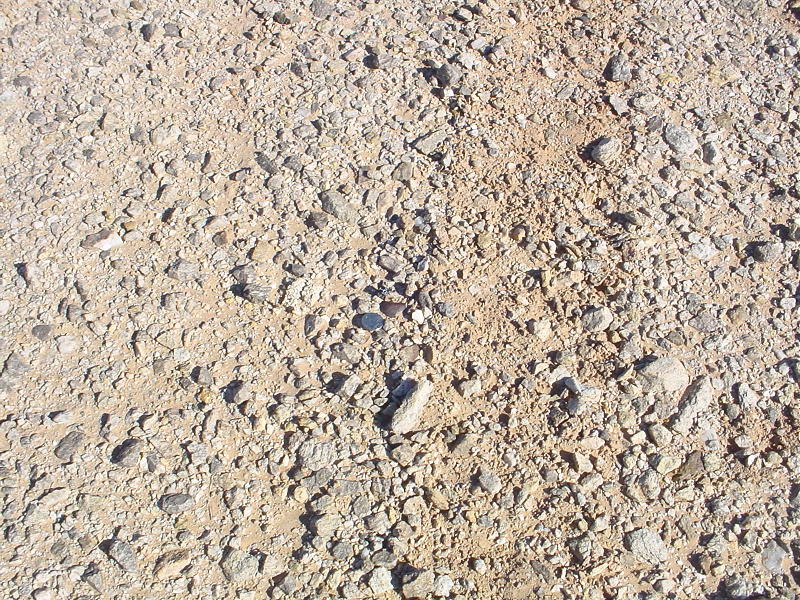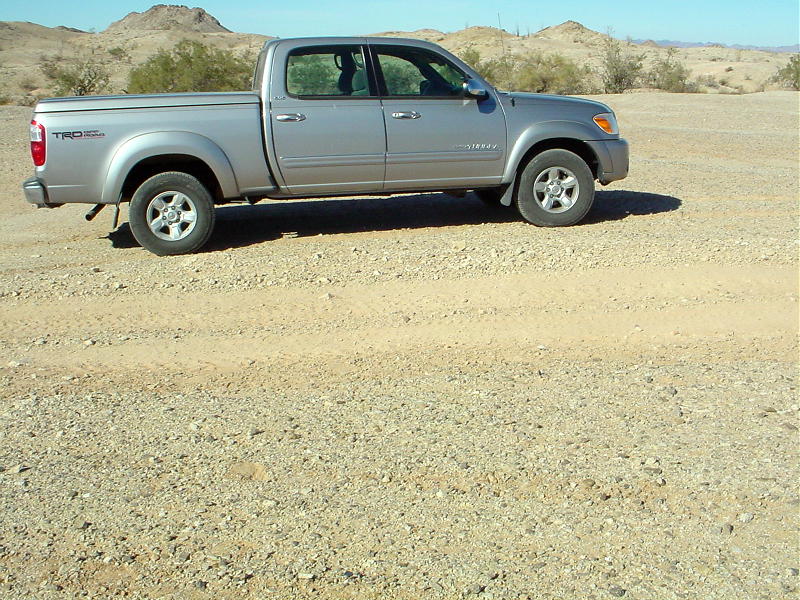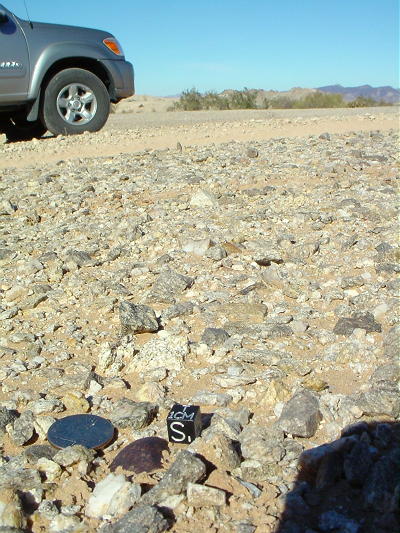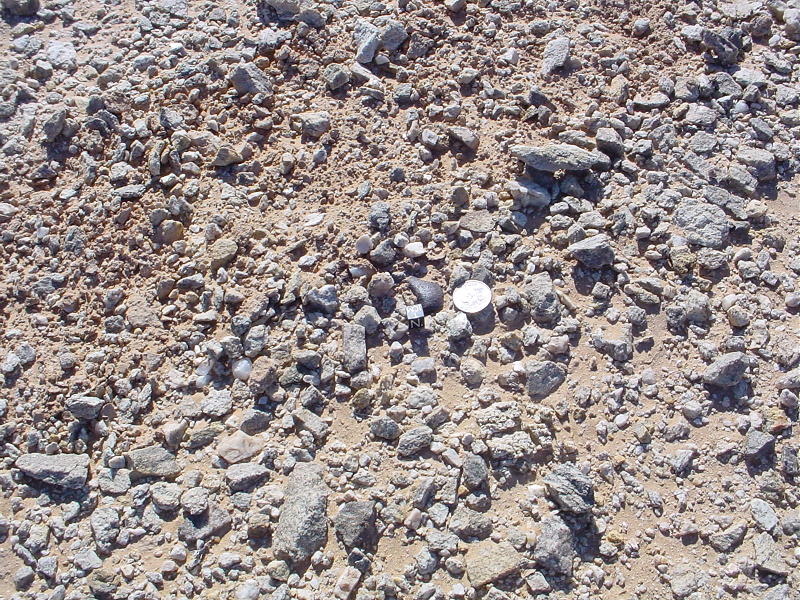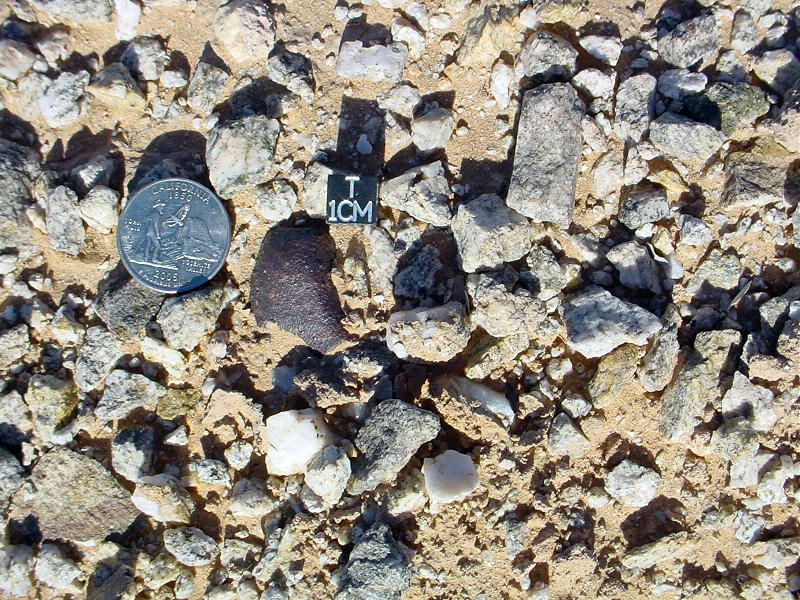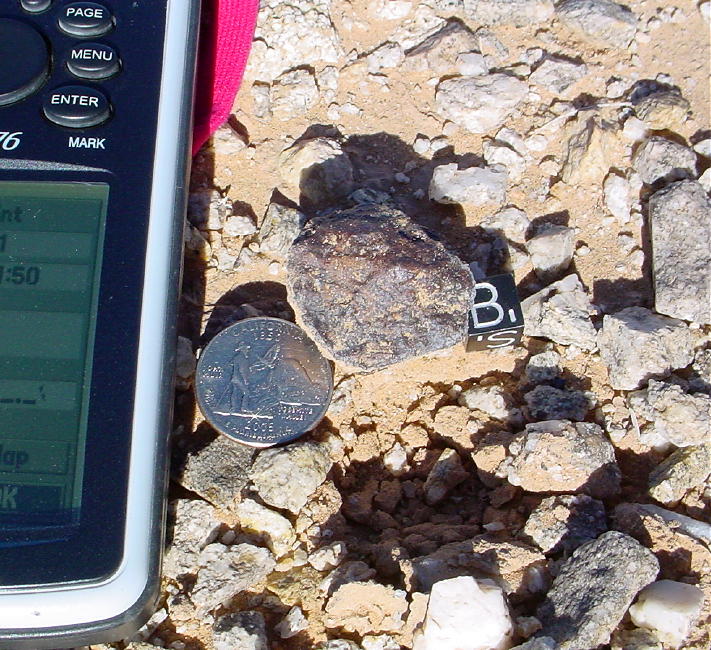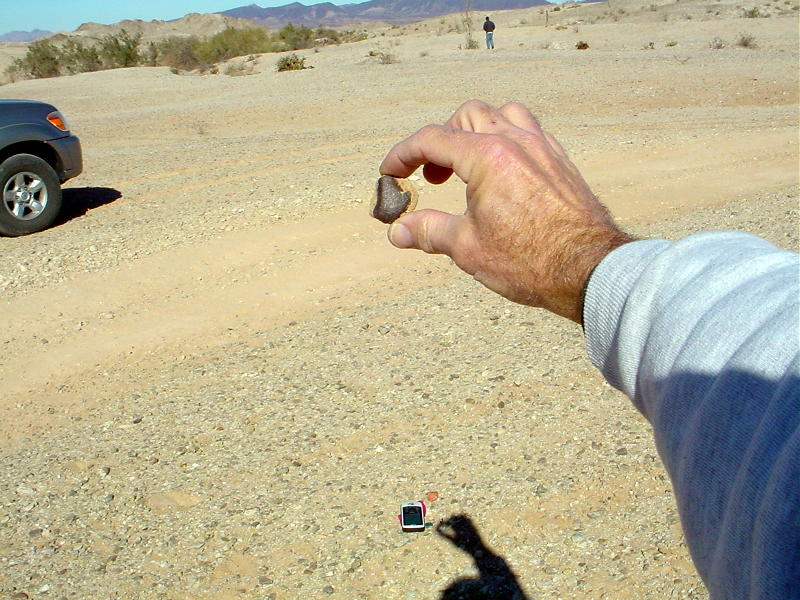 Although this stony was mildly attracted to a magnet, it did not produce any response on my White's VSat Goldmaster metal-detector (unfortunately).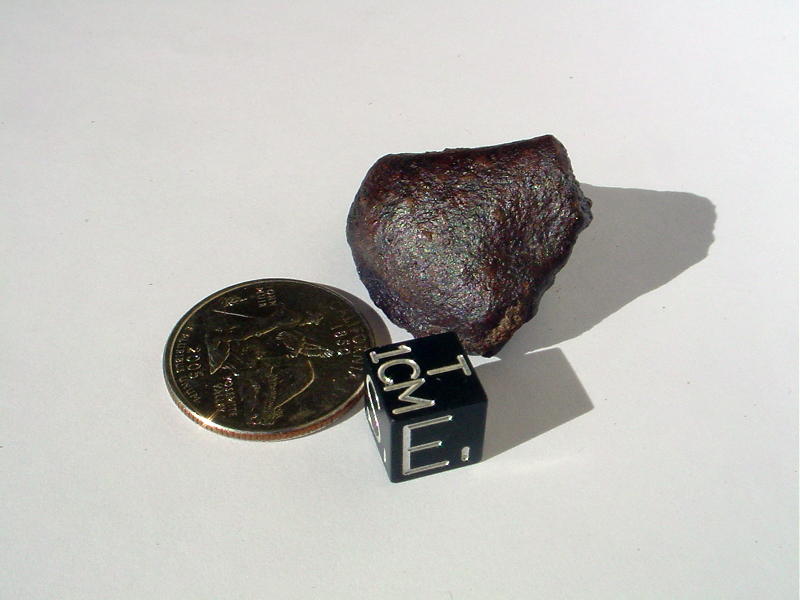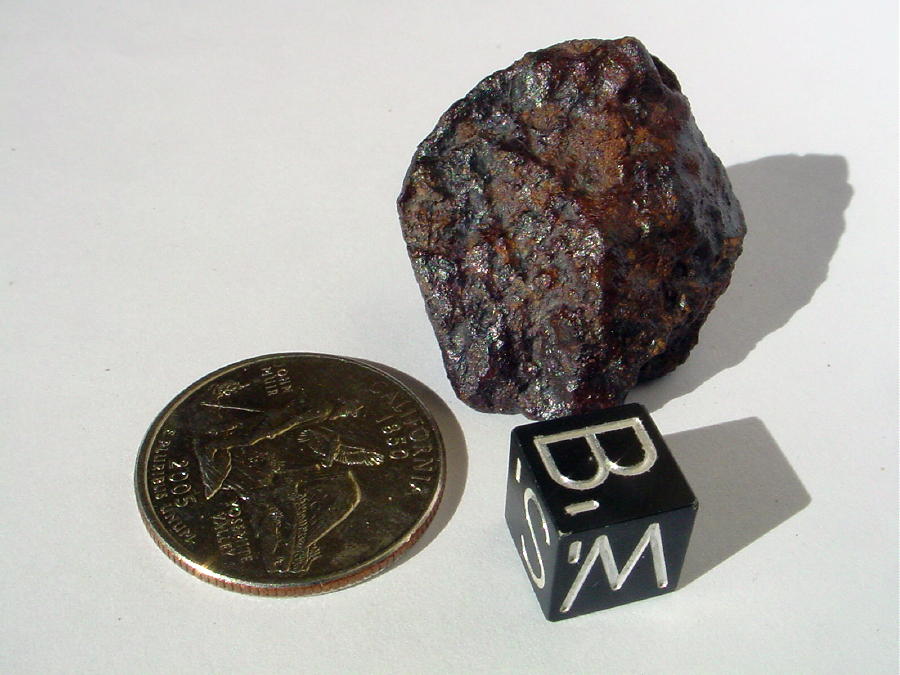 Since the above images were taken this specimen has been cut. A 6.7 gram sample has been extracted, from which a thin-section will be made and the remaining mass will be submitted as a type specimen.
Preliminary examination suggests that this stony is an equilibrated L-chondrite.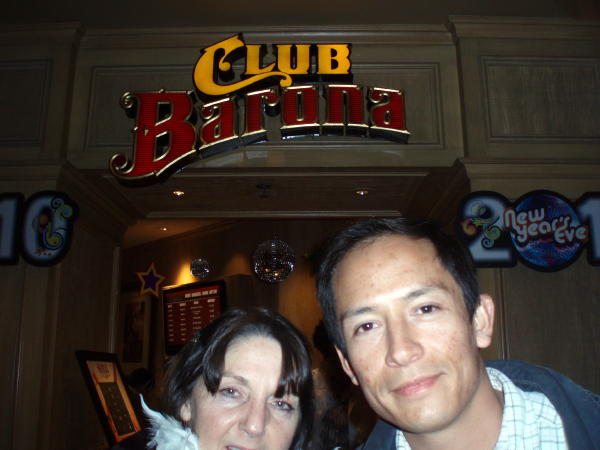 We made our solitary find on New Years Eve 2009. At this time of year sunset comes early. And even before sunset, the shadows get long early and get in the way of trying to spot small dark stones on a gravel surface. So, we departed early, giving us plenty of time to travel back to San Diego and meet for dinner with Moni Waiblinger. We decided on a popular buffet at a gaming casino on a small indian reservation called "Barona". The chefs there put together a special New Years Eve Dinner. Unlike other buffets, here you can reserve your spot and not have to wait in a long line. Of course, this allows the patrons to go off and gamble some more, but James continued with his good luck by winning $400! Using the same slot machine, Moni and I won enough to pay for our meal. The King Crab legs were one of many highlights of the dinner.
Over dinner we discussed our recent trip and wondered whether our find was the last one made for year 2009, and whether it was the last meteorite found for this past decade (if you count year 2000 as the beginning of the past decade). We reflected on the past 10 years, and speculated on what the next 10 years would bring. The buffet closed and we moved the party out into the casino.
The Barona Casino made a special effort for this New Years Party by having a variety of venues for entertainment. Well before midnight they started dispensing the free champagne. Then finally a multitude of colorful balloons fell from the rafters. Happy New Year everyone!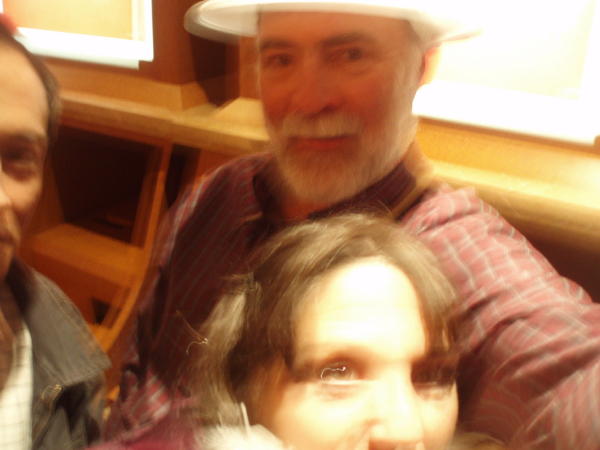 What a way to end the year. We can only hope that the new year (and the coming decade) will be as forthcoming with new meteorite finds and falls!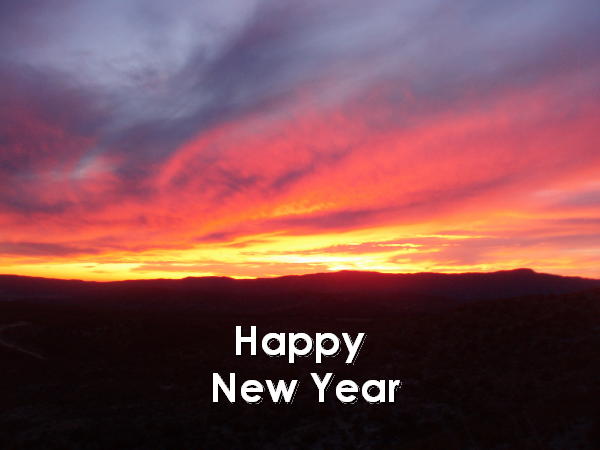 ---
References:
Bob's Findings – article titled, Taking Pictures of Meteorites – In-Situ Images of "in-place" meteorites – as they were found on the ground", in Meteorite-Times.com – May 2004.
Link to the website with the latest issue of:
MAPS Vol. 44 Supplement 2009 July
---
My previous articles can be found *HERE*
For for more information, please contact me by email: