A newsletter for "orphaned" meteorites from the USA.
Featured this month is Coyote Dry Lake (circa 1995-2004)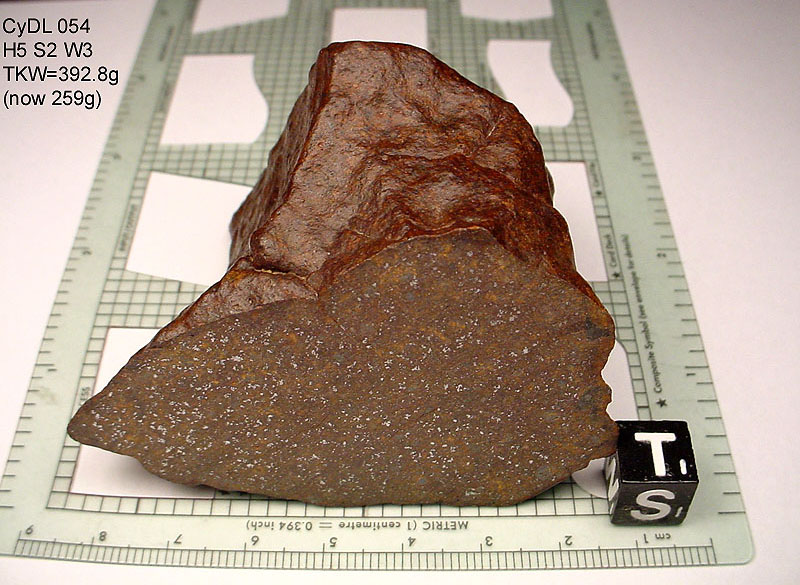 This volume of my Bulletin of unclassified U.S. meteorites features a new format for documenting these "orphaned" finds. Hopefully this will be a more convenient format for when there are more than 100 finds to be reported. It is also conveniently coincidental with this being the 20th anniversary of the first reported Coyote Dry Lake meteorite being found (late 1995). I find it hard to believe that it has already been 20 years since I made that first find. It is also the 10 year anniversary for the first time that Coyote Dry Lake meteorites appeared in a publication. I've appended my abstract to that paper at the end of this article for the reader's convenience.
Strangely, there hasn't been anything published since then, so maybe this is a good opportunity to remind researchers about this unique meteorite locality. But this article is not going to be an "update" on recent recoveries. That will have to be a follow-up bulletin to this article. This article will be more like a historical perspective of the first 10 years of this locality, focusing on the period of time from 1995 to 2004.
Even though that period of time has already been recorded and documented, whatever data and information that can be retrieved at this present time only pertains to those few Coyote Dry Lake finds that were selected for classification. And although provisional numbers were assigned by the NomCom to all of the other unclassified finds, it has recently been brought to my attention that the recovery data that was submitted for over 250 finds can no longer be found in the Meteoritical Bulletin Database. Back then, there was no on-line database and provisional numbers did not appear in print. Over the years and during the transition to an on-line database, this block of data became missing. But it wasn't lost to history, because fortunately, I still held onto this data.
So, I'm taking this opportunity to make this data available, again, by publishing it on-line here in this bulletin.
The following "Bulletin" is just one example of an alternative way in which to document unclassified meteorites from the USA. It is my hope that this compilation will bring attention to the problem of the large number of unclassified meteorites found here in the USA, that are going undocumented. Hopefully, some volunteers will offer to help establish an on-line database that will document these "orphans".
Newsletter for Orphaned Meteorites from USA – Volume 2 No. 1 — January 2016
Meteorite-Recovery Information
Table of Known (as of year 2004) Meteorite Specimens Recovered from Coyote Dry Lake:
[pdf-embedder url="https://www.meteorite-times.com/Back_Links/2016/january/nmcm_all_cydl-article_jan16.pdf"]
This "Bulletin" is just one example of a way in which to record U.S. OC meteorite finds. Hopefully, this compilation will bring attention to the problem of the increasingly large number of meteorites found here in the USA, not only going unclassified, but even going unreported. Hopefully, some volunteers will offer to help establish a similar database that will document these "orphans".
In the meanwhile, I will do my part and continue to gather data, and along with others, make a list of known meteorites, that otherwise, would eventually become "forgotten meteorites".
---
References:
"Making Tracks Across the Southwest: The 2006 Desert Symposium"
Abstracts from the 2006 Desert Symposium – Robert E. Reynolds, compiler
California State University, Desert Studies Consortium and LSA Associates, Inc.
April 2006
Abstract:
Coyote Dry Lake Meteorites: what can Holocene meteorite falls tell us about the recent drainage history of the Coyote basin?
by Robert S. Verish
The Coyote Dry Lake meteorites are named after the California dry lake on
which they were found, a large playa 20 miles NE of Barstow in San Bernardino
County. For the past 10 years, over 250 chondritic stone fragments and
individuals (meteorites) have been found at this locality. Every known find has
been documented. Each of them has had its date-of-find, weight in grams, and
GPS coordinates recorded. This information was reported to the Nomenclature
Committee of the Meteoritical Society. Having supplied all of the required
information, it was now possible to get provisional numbers assigned to each of
the more than 250 finds.
The first known find from this locality was made by this author in 1995, but
it wasn't classified until 1999. It was characterized as being "H5 S2
W3", as are the majority of the finds from this locality. But, over the
years as finds were continually made, each would be closely scrutinized, and
every specimen that was deemed "out of character" (from the original
H5 S2 W3 stones) would be turned in for classification. Presently, there are
nearly 50 of these specimens that have been classified. Although a proper
pairing study has yet to be done, here is the breakdown of the current classifications:

Number of 
classified finds 
(stones)

Classification(UCLA)  

Pairing determination

21 

H5 S2

(most are "probably paired")

10

H4

(1 group of whole individuals are "probably paired" and at least 2 other groups of "possibly paired" stones)

 5

H6

(1 group of whole, fresh stones are "probably paired" and another group of weathered stones are "possibly paired")

 2

H5-6 S2 breccia

("probably paired")

 1

H5-6 S4 breccia

(unpaired)

 1

H3

 2   

L5-6 S2-3 W1

("probably paired")

 2   

L6 S4 W5

("probably paired")

 1

LL6
The recovery information for each of these classified stones were tabulated, and this table was submitted to the Nomenclature Committee. The name "Coyote Dry Lake" was approved by the Committee
for these classified stones, as well as for the remaining 200 "provisionally numbered" finds. The name "Coyote Dry Lake" appeared for the first time in print when the Meteoritical Bulletin #89 (2005) was published in the "Supplement" to the Meteoritics & Planetary Science – Journal of the Meteoritical Society (Volume 40).
Based upon the pairing scheme in the above table, it can be reasoned that there have been at least 10 separate events, called "meteorite falls", which have occurred over time. It is this phrase "over time" that is now at the center of the discussion about Coyote Dry Lake meteorites. Over HOW MUCH time is the question. For if it can be shown that these various meteorites accumulated over geologic time, and that their recovery was fortuitous due to recent exhumation by accelerated deflation/erosion of this lakebed, then 10 separate fall events is not an unusually high number.  But, the consensus among geomorphologists is that Recent drainage of these Mojave Desert basins has been relatively static.
Coyote Dry Lake meteorites have garnered attention recently, albeit for the large number of meteorites found upon the lakebed (more than 250 stony fragments and individuals), yet, if the number of separate fall events can NOT be shown to have occurred over geologic time, and are accepted as having occurred recently, this will be of great interest to those researchers studying the rate of influx for meteorite(s) (falling) upon this planet.
Reconciling the number of Coyote Dry Lake meteorite falls with the Recent drainage history of the Coyote Basin is an endeavor that will require more in depth study by various, cross-disciplined researchers in order to resolve. It is to this end that the finding of the Coyote Dry Lake meteorites are being presented to this workshop.
Presentations from a workshop held in April 2005 at the Desert Studies Center in Zzyzx, California, are now published. Key issues addressed in the workshop included the following: (1) "Correlating patterns with current interpretations of drainage history based on the physical record and seeking explanations for major discrepancies." (2) "The meeting encouraged geologists and biologists to interact to develop a broader perspective on the types of research that are being conducted to address issues of regional drainage history. The convenors hope that these new opportunities of interaction among scientists of different disciplines will lead to future proposals for collaborative studies."
In keeping with the above perspectives, this abstract endeavors to promote a more in depth study of the Recent drainage history of the Coyote Basin and to petition fellow researchers at this workshop to assist in this "cross-disciplined" study.
Bibliography:
Russell, S., et al, 2005. The Meteoritical Bulletin, No. 89, in Planetary Science 40, No. 9, Supplement, A201-A263.
Meek, N., 1994., : San Bernardino County Museum Association Quarterly, 41(3), p. 5-13.
Clarke, M.L., 1996. Infra-red stimulated luminescence dating of sands from the Cronese Basins, Mojave Desert,
Geomorphology 17, 199-205.
---
Previous Bob's Bulletins:
Bob's Bulletin – Vol. 1 No. 1 — In my first Bulletin, I introduced the phrase "orphaned-meteorites from the USA". I defined these "orphans" as being un-witnessed-fall Ordinary Chondrite (OC) meteorite "finds" that are recovered in the U.S.
Unfortunately, the vast majority of U.S. finds are of this type. I went on to write that these U.S. finds were being orphaned from the family of "approved" meteorites for the following reasons:
1) The lack of funding for U.S. researchers to authenticate, classify, and document/record these U.S. OC finds has resulted in several new [negative]; trends.
2) The increasing trend of commercializing the classifying of meteorites by U.S. researchers has priced U.S. OC finds out of the market, and
3) The increasing trend of U.S. researchers to turn away OC finds, even when finders of U.S. OC meteorites are willing to pay for their classification.
Bob's Bulletin – Vol. 1 No. 2 — In my 2nd Bulletin, I went into more detail about why I use the phrase "orphaned-meteorites from the USA". I focused on the lack of U.S.-tax-dollar-funding and why no funding was going towards the classification of these particular meteorites. In hindsight, I now realize that I should have pointed-out that there is also a lack of funding for just authenticating and recording that a U.S. meteorite has been found. This function should never be confused with "classifying" a meteorite, which is obviously way more labor intensive and costly.
Bob's Bulletin – Vol. 1 No. 3 — In my 3rd Bulletin, I proposed the idea of an on-line database for these "orphaned" and other unclassified U.S. meteorites. This would have to be an all-volunteer effort, much in the same manner that the American Meteor Society has established the Fireball Reporting System. This database would give finders a central point to report their finds and have a field ID number issued to them. This "Field ID" would reflect which US state and date of find. The function of this database should not be confused with already established processes of getting a meteorite "classified", which is obviously way more labor intensive and costly.
Bob's Bulletin – Vol. 1 No. 4 — In my 4th Bulletin, I reported that several U.S. researchers were volunteering their time and effort to record and publish meteorite falls and finds, such as, Creston and Misfits Flat. I suggested that this method of cataloging newly found US meteorite specimens could be expanded, but the main hindrance is that there is no funding for this kind of effort.
Meteoritical Bulletin: the search results for all provisional meteorites found in "USA" – Published by Meteoritical Society – Meteoritical Bulletin, Database.
Meteorites of California the list of formally-recognized California meteorite falls and finds.
My previous Bob's Findings articles can be found *HERE*
If you would like to sponsor any of these orphans, and help in the funding for getting them classified, in order to get them entered into the Meteoritical Bulletin Database, then please contact me by email: