San Bernardino Wash (L5)
An apparent strewn-field in the California Mojave Desert.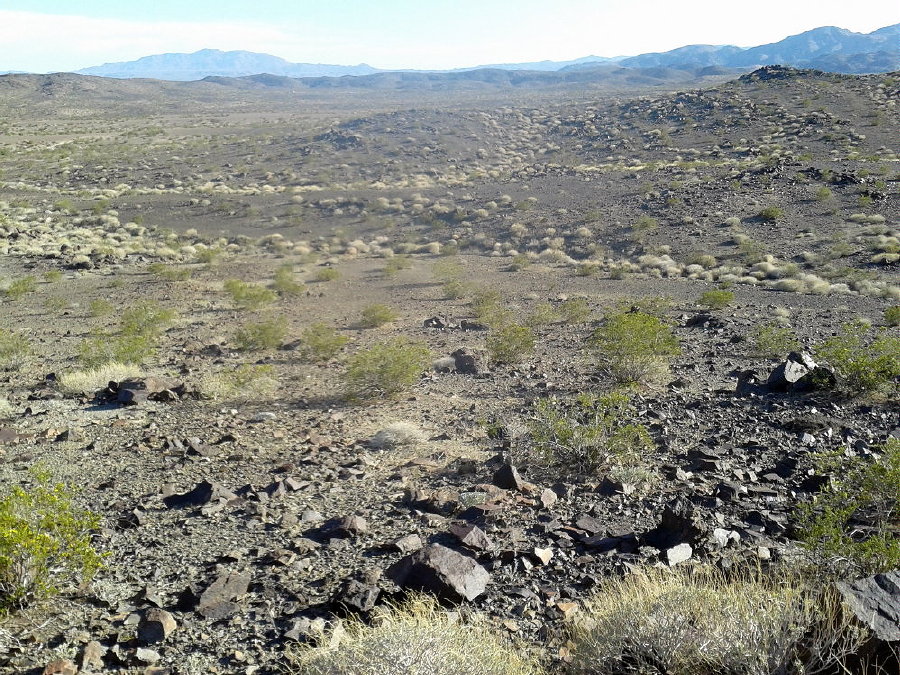 High up into the Pinto Mountains there is a surprisingly flat valley that is drained by the San Bernardino Wash. Ironically, this wash isn't in San Bernardino County. It is located just south of the county line in Riverside County. Being located this far south in the mountain range, this wash drains into the Pinto Basin, which forms the northeastern margin of the Joshua Tree National Park.
This wedge of the mountains, north of the park boundary and south of the county line forms a dense concentration of mines and claims generally known as the Dale Mining District. Located 18 miles southeast of Twentynine Palms, miners were drawn to the area as early as 1881 by reports of gold in the Pinto Mountains. During its heyday, both lode and placer gold mining took place, and saw the birth and death of two mining camps – now the ghost towns of Old Dale and New Dale. By its peak production period in 1898 there were as many as 3,000 miners within this mining district. This intense influx of prospecting activity helped give local feature colorful names, such as Fried Liver Wash and Humbug Mountains. Today, there is still intense activity, but it only occurs on the weekend when "treasure-seeking" clubs take forays to their prospecting claims.
Typical crowd of prospectors on a modern-day weekend up in the Dale Mining District
Some people consider there to be two mining districts in this area, both of which are separated by a watershed: the Virginia Dale District to the north, and to the south of the watershed (which includes the San Bernardino Wash) is the Pinto Basin Mining District, comprising the Gold Crown, the Goldenrod, the Meek, the Mission, the Rusty Gold, and other smaller mines. It is the renewed interest in gold prospecting at these mines that has resulted in the inadvertent recovery of a number of stony meteorites.
It shouldn't come as a surprise that meteorites could be found in this area. After all, this is the portion of California meteorite history that was written by LaPaz and Nininger, which includes the Dale/Zulu Queen Mine (L3.7) and Pinto Mtns/Twentynine Palms (L6) meteorites; all found in these mining districts more than 50 years ago.
That was the previous century. But starting this century, I began to hear rumors of other meteorites being found in these mining camps by prospectors, but I never could get first-hand corroboration. And on those rare occurrences when I would actually get to examine someone's want-to-be "meteorite" specimen, it would always be hematite, or some other meteor-wrong. So, each time my hopes of finding a Zulu Queen Mine or Pinto Mountains strewn-field got dashed, I would be more and more convinced that all of these rumors were just wishful thinking.
But then, around 2011, something happened. It was an eBay auction! It wasn't anything special. It just simply stated, "California Meteorite – 35 grams" accompanied by a single image and a "guarantee". The image was of good enough quality to get me to contact the Seller, where I confirmed that he was the finder and that he found it near Gold Crown Road. Well, long-story-short, I wasn't the only one watching this auction and I was out-bid by my friend and colleague, Jason Utas. In the end this wasn't such a bad thing, because Jason did what I was planning on doing. He turned-in the specimen to UCLA to be classified and by February 2012, this specimen and several other stones were officially in the Meteoritical Bulletin. They are now collectively known as the San Bernardino Wash (L5) meteorite.
The "write-up" that appeared in the Bulletin for this meteorite was very informative. (I wish that all entries into the Bulletin had this level of recovery information.) From that data, I learned that a number of stones had been recovered, and that several of them were found by Fred Mason. I knew Fred. We had hunted together at Franconia, Arizona. So I contacted Fred and asked him if he had any specimens still available. He told me that he had just shared his last available stone with another hunting partner. He could tell I was disappointed (his were the last stones available). Because he was unable to give me any leads as to where I could find another available stone, Fred, the kind gentleman that he is, offered to have me join him at his gold-claim and he would show me where he found his SBW specimens. It was a long-shot, but it was my last-chance.
The next time that Fred went to his claim I met him at the Rusty Gold Mine, and he proceeded to give me a tour of where he found his placer gold and of where he found his meteorites. He suggested that I should focus my metal-detecting search on a particular outcrop where he had previously found some small fragments. It was his opinion that a stone from this fall had struck this granitic outcrop and had pulverized into many small pieces. I thanked Fred profusely for pointing me in the right direction, and I quickly took off while rapidly swinging my detector coil.
But a meteorite wasn't the only thing that struck this outcrop. There were many lead bullets that splattered against these rocks, as well. This outcrop appeard to have been used for target-practice. And it seemed like it would take me all day to clean this find location of all the artifact iron and lead bullets. But I figured that if there was this much man-made material left behind by all of the previous prospectors, then there was still a chance that a piece of the meteorite may have been missed.
But by the end of the day, I had not (knowingly) found any meteorites, or gold. All I had to show for my efforts was a sandwich bag full of hot-rocks and iron/lead artifacts. But I did get introduced to a couple of Fred's fellow nugget-shooters. Everyone I met was very keen to talk to me about gold prospecting, but they thought it curious that I was more interested in the "meteors" that they were inadvertently finding. Before leaving the Dale Mining District, I gave everyone that I met my card and expressed my interest in acquiring any of the meteorites that they would be willing to part with. I told Fred that I was very appreciative of his hospitality and for giving me permission to search for meteorites on his gold claim, as well as, for introducing me to his friends and partners. I told him that I look forward to returning and extending my search for meteorites out from the Dale area and into other portions of the Pinto Mountains.
Now I need to explain what I meant when I wrote, "I had not (knowingly) found any meteorites".
After I returned home from the hunt, I took the bag of hot-rocks and iron/lead artifacts, washed all the dirt off of them, lined them all up on a board, and photographed the entire collection before I examine each specimen under a microscope. That was when I discovered that one of the "pieces of rust" was actually a fine-pebble-sized chondrite. (You can see what I saw through my microscope in the image below.)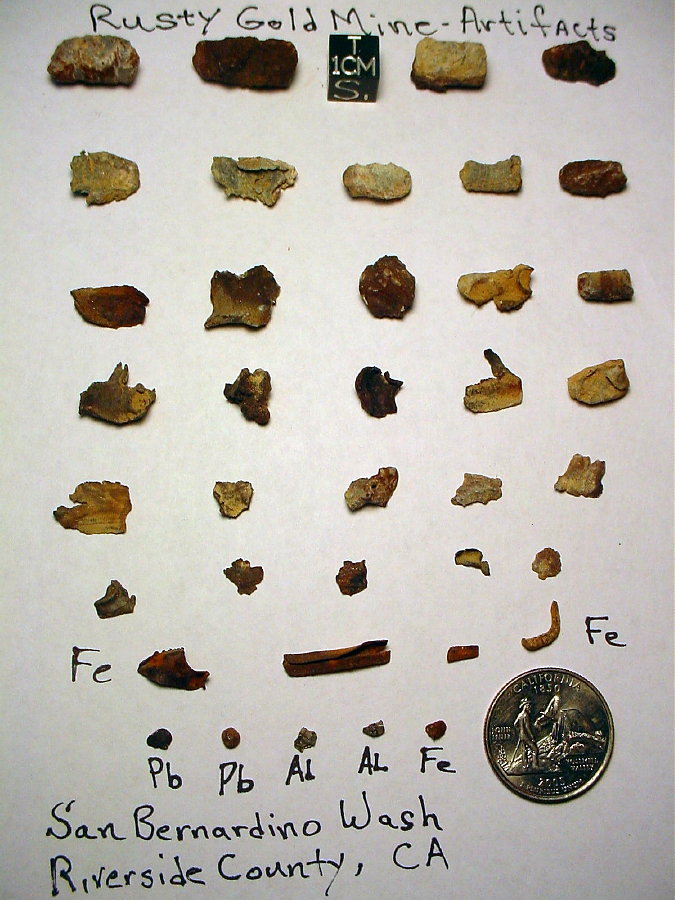 Results of my day-one metal-detecting at the Fred Mason find location
(One of these is the meteorite fragment depicted in the image below)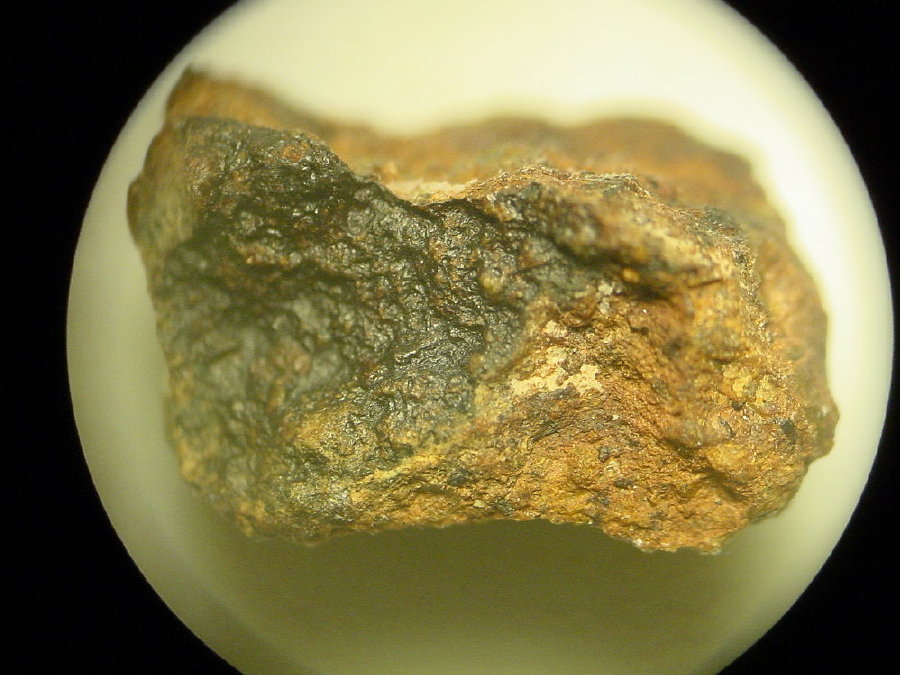 San Bernardino Wash (L5) – Riverside County, CA
Luckily, when I first metal-detected this "sandy rust-ball" I didn't waste time in the field grinding a window into it, because now I had enough mass to actually saw-off a sample to make a thin-section and still have a type-specimen remaining. I went to the trouble of doing this so that I could get a petrologic microscope examination in order to attempt a visual-pairing of this find to the Fred Mason find, and hence to the San Bernardino Wash (L5) type-specimen, which would corroborate Fred's find and confirm the existence of this strewn-field. It would also help this effort to acquire more finds. The positive results obtained from the optical examination prompted me to do just that. Soon, I was making a return trip to the San Bernardino Wash.
Cheap, hastily made thin-section for visual-pairing purposes of my specimen from the Fred Mason find locality.
Close-up. This thin-section was visually-paired to the SBW(L5) type-specimen at UCLA, which corroborates the Fred Mason find location and the existence of a strewn-field.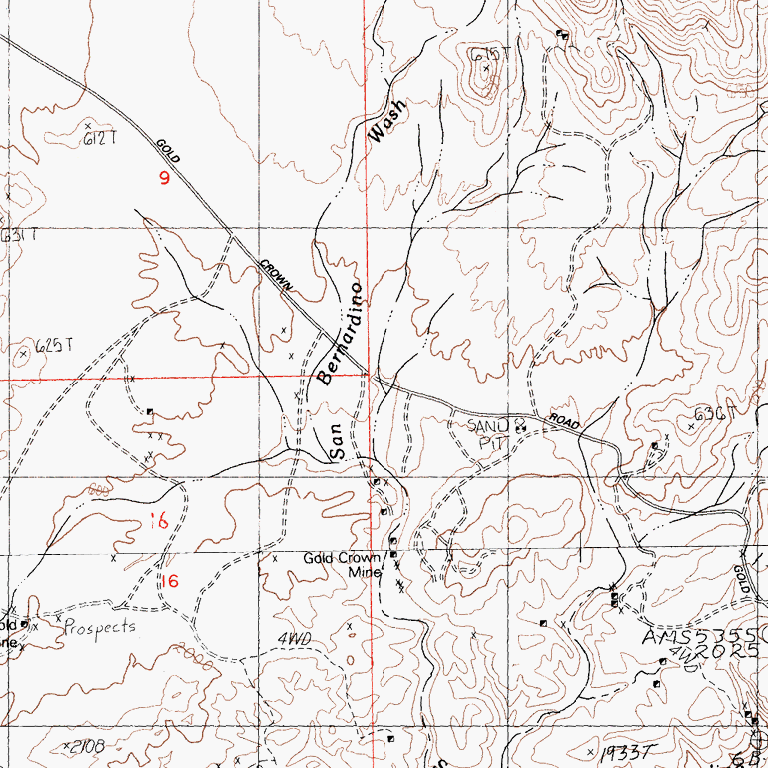 Topographic Map : San Bernardino Wash – Riverside County, CA
The continual gold prospecting with metal detectors has inadvertently resulted in the recovery of additional chondritic stones.
None of these subsequent finds can be considered as whole stones. They are all fragments, and in clusters, suggestive of the falling stones "splattering" upon contact with the rocky ground. Although in proximity with each other, some fragments appear to be much less weathered than the majority of finds, indicating a very micro-environment controlling the weathering of some fragments. So, in order to prove that these "less weathered" fragments were not xenolithic to the strewn-field, two specimens were sampled, thin-sectioned, micro-probed, and characterized. The results proved that these specimens were paired to San Bernardino Wash (L5)- see images below for comparison.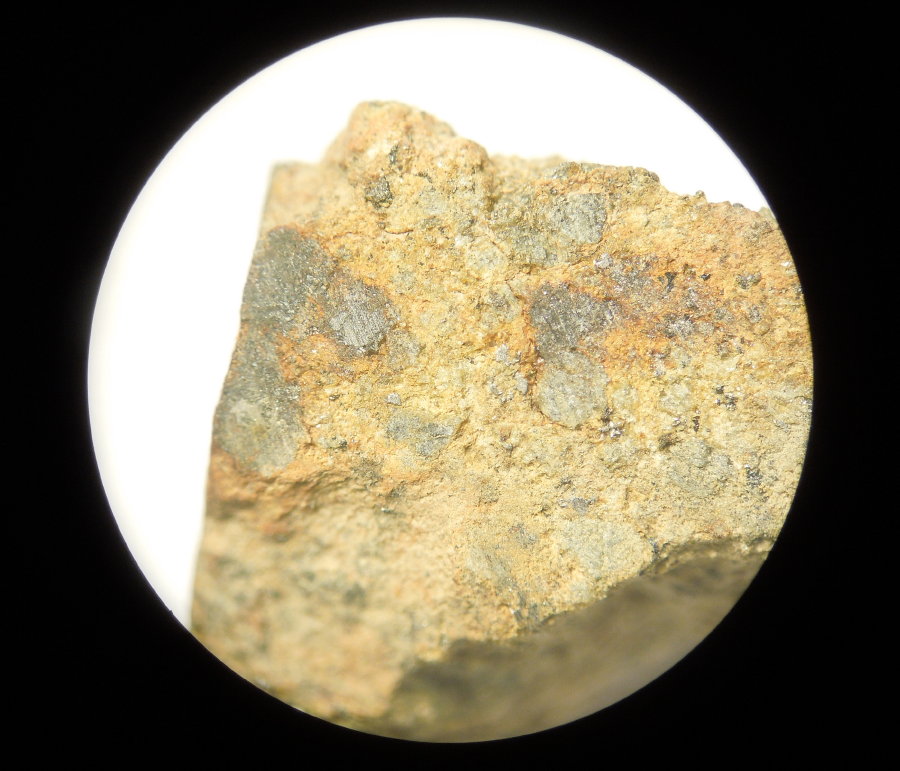 San Bernardino Wash (L5 S1 W3 Fa24.0+/-0.2% n=24) – Riverside Co., CA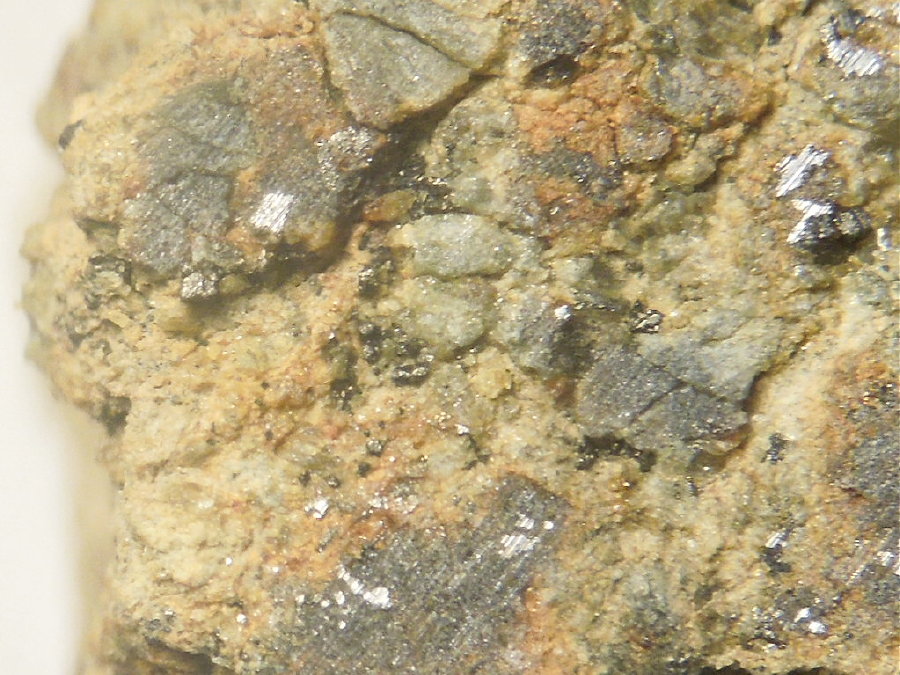 San Bernardino Wash (L5 S2 W1 Fa23.8+/-0.4% n=14) – Riverside Co., CA
Although there were some variations in weathering grade (W1-W3)and even less in shock stage (S1-S2), all of the SBW fragments found in this study had a common characteristic, that of being friable and of having a porous groundmass. In other words, when specimens were cut with a saw blade, the cut surface would show where many grains and chondrules had been plucked-away. It was too difficult to attempt to grind and polish a cut surface. This stood in contrast to my Pinto Mountains specimen which displayed a more recrystallized (less friable) groundmass, and chondrules that were more equilibrated with the matrix. Although not necessarily a part of this study, but for completeness, a sample of my Pinto Mountains specimen was thin-sectioned and characterized, as well – see table below for comparison.
The following meteorite specimens were characterized by Dr. Alan Rubin, UCLA:
San Bernardino Wash –(L5 S2 W1 Fa23.8+/-0.4% n=14)– 2012B find
— IMAGE GALLERY —
Part-slices from the "W1" fragment: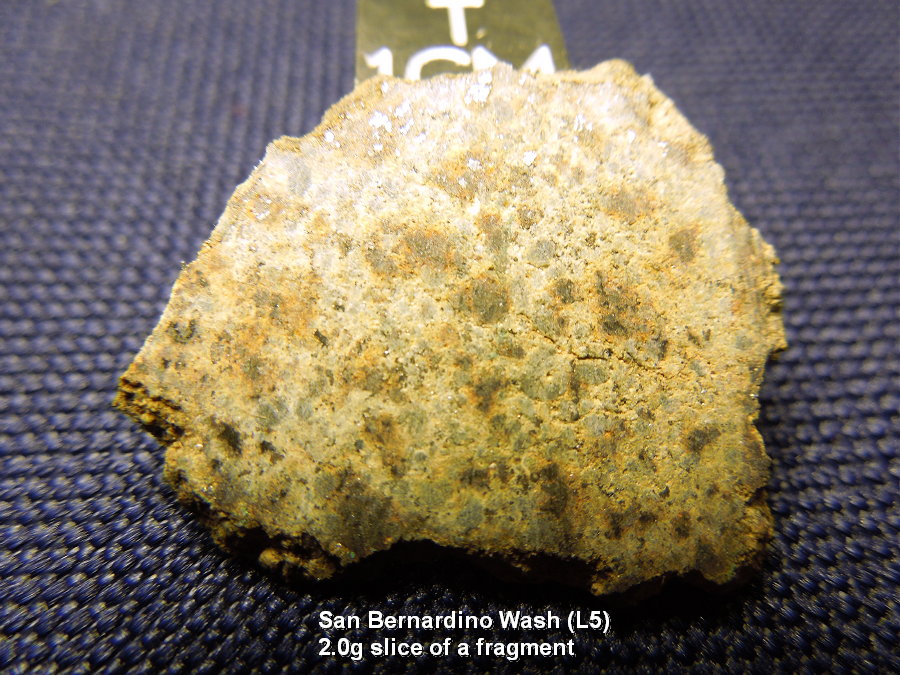 San Bernardino Wash (L5 S2 W1 ) – Riverside Co., CA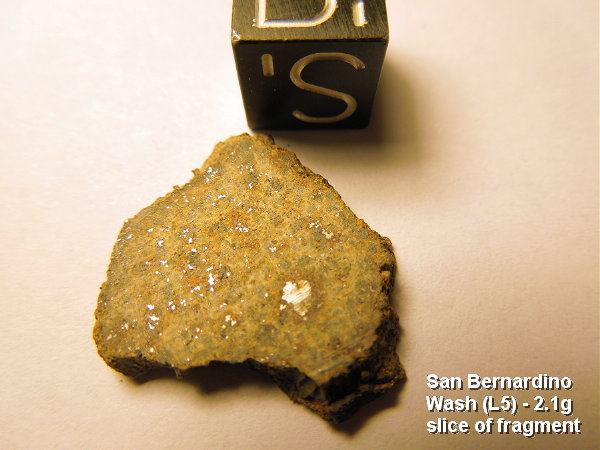 San Bernardino Wash (L5 S2 W1 ) – Riverside Co., CA
In conclusion, here are a few images of some recent finds from this, now, better appreciated strewn-field (see below):
— IMAGE GALLERY —
Some recently found stones from the "strewn-field":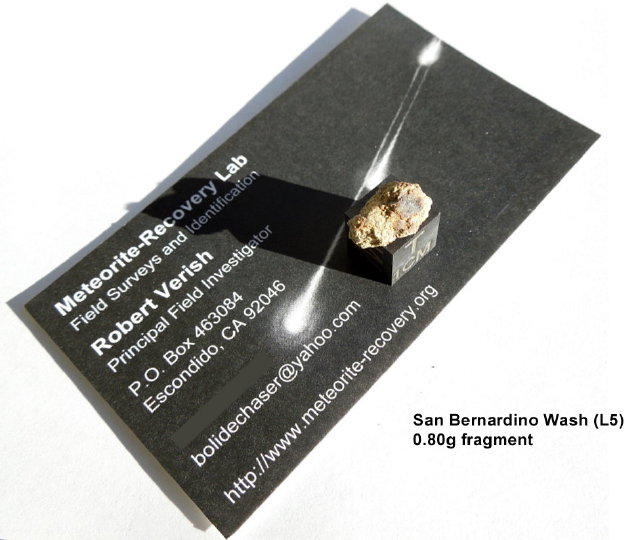 Ordinary Chondrite – San Bernardino Wash (L5) – Riverside Co., CA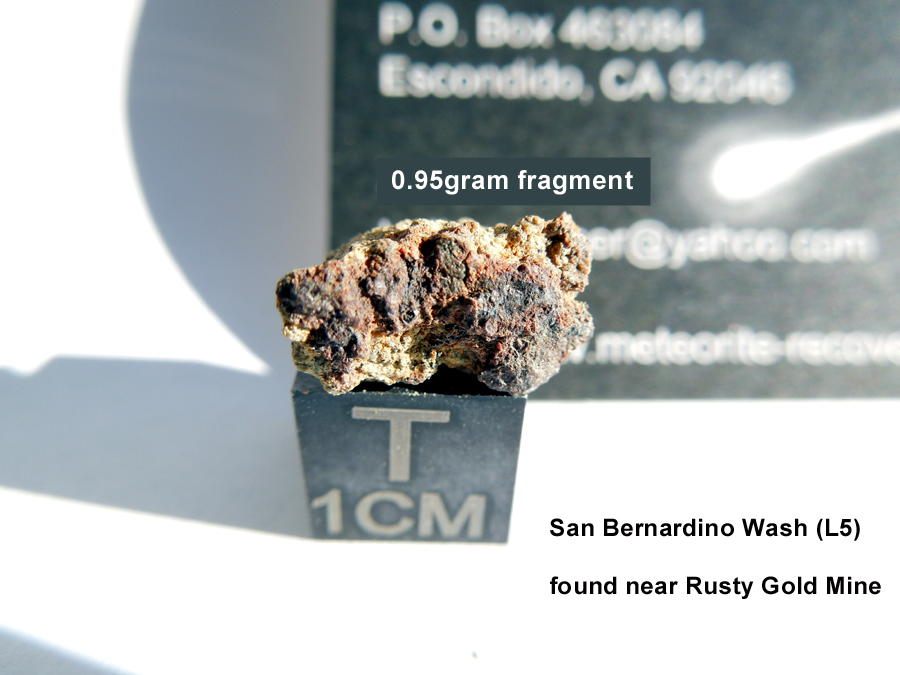 Ordinary Chondrite – San Bernardino Wash (L5) – Riverside Co., CA
"Click" on the above image in order to ENLARGE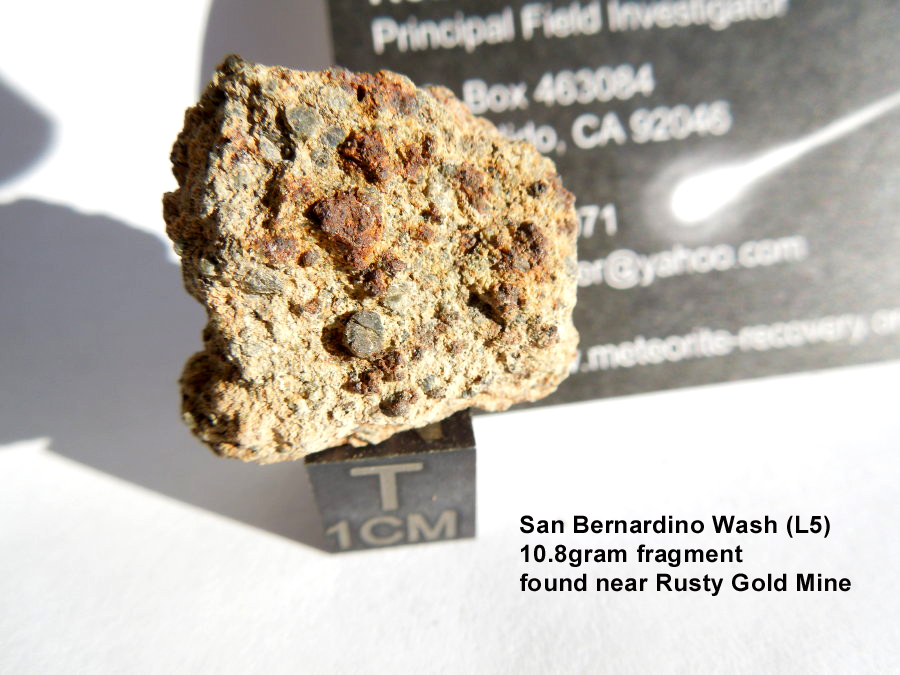 Ordinary Chondrite – San Bernardino Wash (L5) – Riverside Co., CA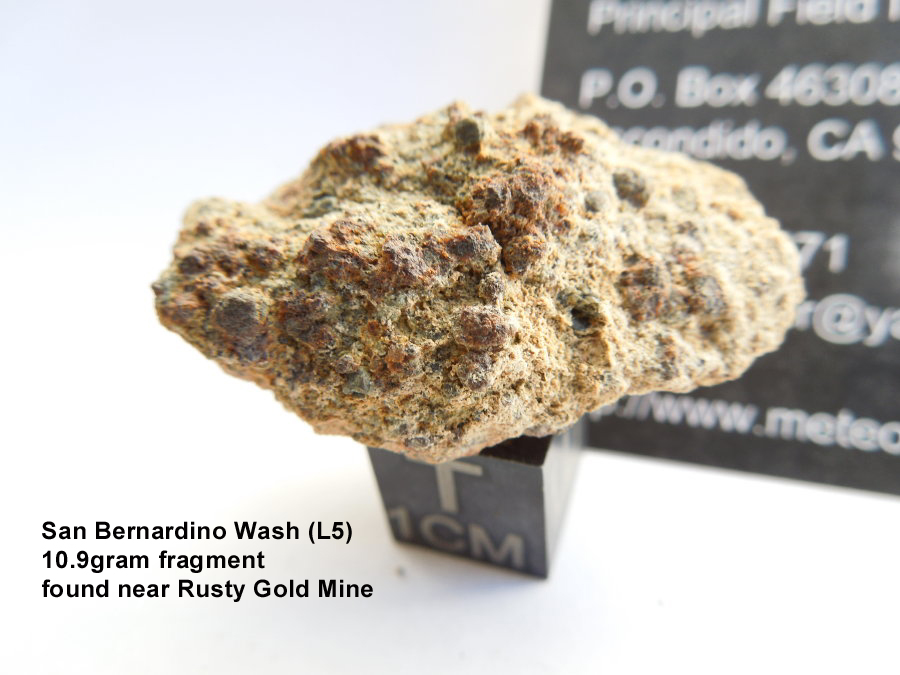 Ordinary Chondrite – San Bernardino Wash (L5) – Riverside Co., CA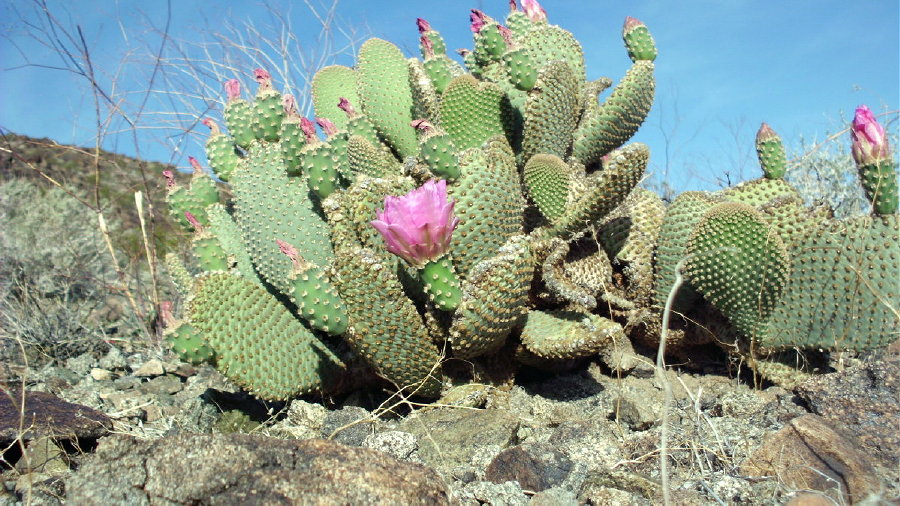 Blossoms symbolize a fruitful future for meteorite hunters in the coming year 2014.
Hope you enjoyed the images!
There may be more information forthcoming about this meteorite, at a later time – if more are found.
---
References:
San Bernardino Wash in Meteoritical Bulletin: Entry for San Bernardino Wash -Published in Meteoritical Bulletin, no. 100, MAPS 46, in preparation (2013).
Any and all meteorite classifications that appear in this article are courtesy of Dr. Alan Rubin, UCLA.
The image at the top of this article is a view of the Rusty Gold Mine claim, which is just one of many active claims in the San Bernardino Wash area. All of these are "placer & hardrock gold claims", and even though meteorites can't be included in a gold claim (because they are "non-relocateable")there is no way to distinguish between metal-detecting for meteorites (which is allowed) from metal detecting for gold (which requires permission from the claim-holder)! This article in no way suggests prospecting on a claim without permission. For more information, see BLM Land Use Policy.)
My previous articles can be found *HERE*
For for more information, please contact me by email: