The effort to reconstruct fragmented meteorites continues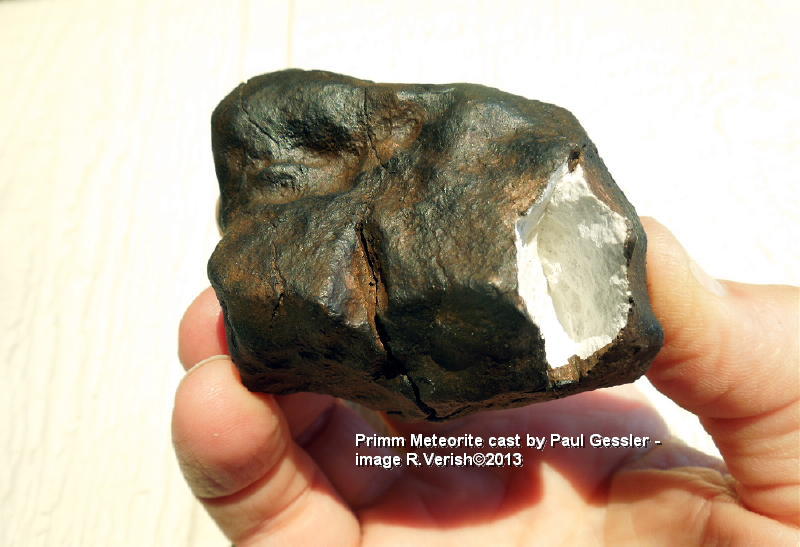 Part 1 of this story was my last article (May 2013) and was titled: Primm and the other Roach Dry Lake Meteorites. The Primm meteorite was found in Clark County in southern Nevada. It was found on 1997 December 23rd. Paul Gessler's father, Nicholas Gessler, discovered the first Primm Meteorite. Nick and his family went on to find 104 more meteorite fragments with a total mass of 3.383 kg. Many of these fragments could be fit together to form larger masses, essentially "reconstructing" the original stone.
The above Primm Meteorite cast was made by Paul Gessler (Nick Gessler's son). He did this as a follow-up to his request on the Meteorite-List for "help" in completing a puzzle Primm meteorite that he had reconstructed from found fragments. For the reader's convenience, I've transcribed Paul's post below:
Subject: [meteorite-list] PRIMM – DRY LAKE HELP
From: Paul Gessler 
Date:  Sat, 20 Apr 2013 11:57:08 -0700
To all You hunters who have searched Primm / Roach Dry lake:
Please help me to rebuild one of my favourite meteorite finds. 
This 242 g individual was found back in 1997 and was reconstructed 
from 3 pieces and glued back together.  It is still missing a small 
8 gram wedge shaped piece that hopefully can be reunited with the main mass??? 
Just want all of you who have hunted Roach D.L. to take a look at this video and 
see if just maybe you have the piece I am looking for. It would be Incredible to 
COMPLETE this meteorite's saga.  If found, I would be happy to substitute for a 
larger Primm piece from our collection...and some detailed info 
on a Nevada strewn field that has yielded 
some really Amazing finds. 
Let me know. thanks.
Would also be interested in the locations and mass of additional finds 
regardless of matching my piece so that I can get an idea of what we missed. 
I want this attempt at unification to get out to everyone so 
please forward the video to anyone you know 
who has searched this location or is even slightly interested.
This just might work? 
I hope.
Paul Gessler
http://www.youtube.com/watch?v=PW54tdOXWiE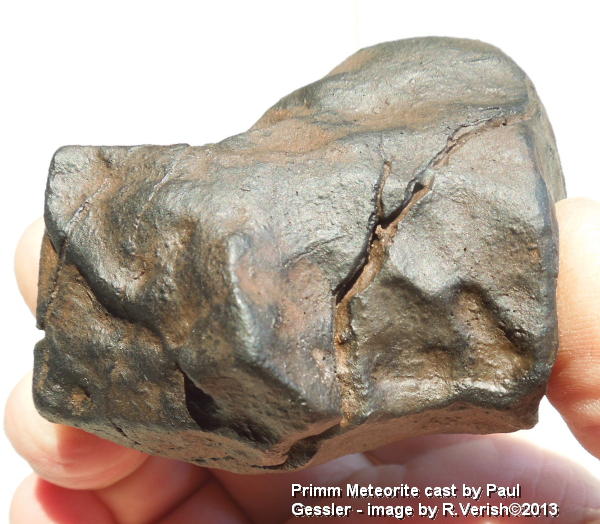 REFERENCES:
The Wikipedia: entry for Primm
– contains links about the Primm Valley (State Line) area in southern Nevada.
http://en.wikipedia.org/wiki/Primm,_Nevada
https://www.meteorite-times.com/bobs-findings/primm-and-the-other-roach-dry-lake-meteorites-another-effort-to-reconstruct-fragmented-meteorites/
104 meteorite fragments weighing a total of 3.383 kg were recovered by Nicholas Gessler after an extensive search of Roach Dry Lake …
http://gessler.bol.ucla.edu/Primm.htm
Published on Apr 19, 2013 – Paul Gessler's video of his Primm (H5)meteorite fragments which he reconstucted into a whole stone weighing a total of 283g – MINUS an ~8 gram piece which he is requesting help in getting it found/located. …
http://www.youtube.com/watch?v=PW54tdOXWiE
Published on Apr 20, 2013 – "Found this 6.3 gram meteorite piece while hunting Roach Dry Lake Bed, near Primm, NV. on 4-13-13." – "Dolan" Dave's video response to Paul Gessler's video of his Primm (H5) meteorite, which Paul reconstructed into a whole stone weighing a total of 242g from fragments that Paul found 15 years ago at Roach Dry Lake. …
http://www.youtube.com/watch?v=N8JoD0YAC_8
---
My other articles can be found *HERE*
For for more information, please contact me by email: