Pennsylvania Meteorites in the mineral collection at the Carnegie Museum of Natural History in Pittsburgh, Pennsylvania.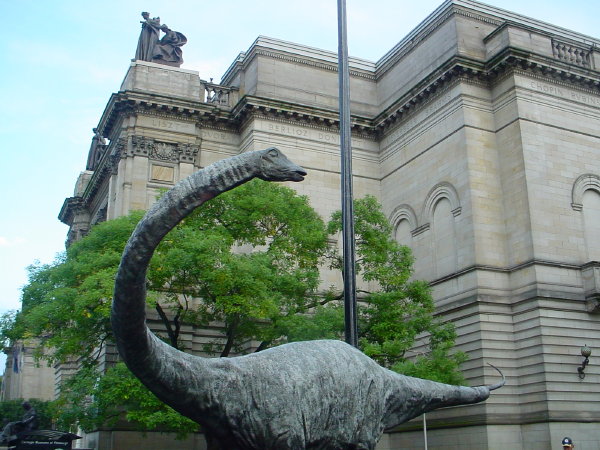 Since 1941 there have been a total of eight Pennsylvania (PA) meteorites – five irons (all finds)and three L-chondrites (all falls), according to the Meteoritical Bulletin Database. Three (3) of these "PA meteorites" are in the in the mineral collection at the Carnegie Museum of Natural History (CMNH)in Pittsburgh, PA:
The Bradford Woods (L-chondrite) – the 762g main mass of the 1886 "fall",
The Shrewsbury (Iron, IAB-sLL) – a 200g etched slice from the 12kg mass of the 1907 find,
The Bald Eagle (Iron, IIIAB) – actually, not the 3.2kg mass, but a resin-cast replica of the 1891 "foot-shaped" find.
So, technically there are two (2) "PA meteorite" specimens physically present in the CMNH Collection, plus one (1) cast and mold of a third.
Recently I had the opportunity to visit the Carnegie Museum while on a trip to Pittsburgh. Although the dinosaur exhibits are world renowned, the main attraction for me was the Hillman Hall of Minerals and Gems. Ever since the early 1980's this continually evolving mineral display has been regarded as one of the finest exhibits in the United States. And it is quite extensive in size. So, if you ever get the opportunity to visit this display, give yourself plenty of time to see everything.
But I didn't see even one meteorite in the entire exhibit. Although I didn't look at every mineral in the numerous display cases, I'm sure that I didn't see any meteorites.
I know that the Carnegie Museum has meteorites. I can still remember when I was a child there was this huge iron meteorite that all us kids could touch and make us wonder about outer space. (Later, I was to learn that the "huge iron" was a Canyon Diablo, and that it was relegated to the basement storage room years ago. I was granted access to see it, and after all of these decades, I was reunited with the first meteorite that I ever touched [See IMAGE] – my shoes [at the bottom of the image] gives some idea of this iron's size.)
What makes the lack of meteorites on display more confounding is that back in 1987 thru 1988 the Hillman Foundation funded a special exhibition titled "Pennsylvania Meteorites" in their Mineral & Gem Hall at the Carnegie Museum. The current curator went to great lengths to get all 6 of the other PA meteorites "on-loan" from various museums and universities. Those funds also provided for that curator to publish an informational handout. I still have a copy of that well-written, educational brochure from that exhibition. I'm still trying to get permission to publish a ".PDF" file version of that handout, but in the meantime, here is a link to a web page that has all of the images and information that was contained in the original brochure.
In one of the current displays that was titled "Native Element Minerals", I thought I had finally found some meteorites when I saw specimens labeled as "Iron-Greenland" and "Iron-Russia". But these turned-out to be terrestrial native iron specimens from Disko Island Greenland, and from Ozervoe Intrusion, Sibera, Russia. I wonder how many other people mistakenly thought these rare mineral locality specimens were meteorites?
I stopped a "Staff" person and asked if there were any meteorites on display, and they very apologetically told me, "No." They must get this question asked of them very often, because they appeared to be genuinely apologetic to give me this bad news. They informed me that the Museum does, indeed, have meteorites, but they were stored down in the basement. I was given directions as how to contact the curator.
According to the World Directory of Mineral Collections (Third Edition)there are 20,743 specimens in the CMNH collection. This number has definitely increased, because on the day that I visited the Museum, the tables in the curator's office were covered with donated mineral specimens that were in the process of being cataloged, and another donated collection was waiting to be accessioned.
The CMNH Mineral Collection is blessed by having a husband and wife team as curators, Marc L. Wilson and his wife Deb. Although they were very busy cataloging new mineral specimens, they were very obliging when I requested an appointment to view the meteorites in their mineral collection. They invited me immediately into their collection room and took time to bring-out from their cabinets any meteorite that I desired to take images.
Including the two PA Meteorites, there were a total of thirty-two (32) meteorite specimens:
ten (10) irons, and two (2) stony-irons, and ten (10) stonys [seven (7) O.C., two (2) Allende (CV3), and one (1) Zagami (shergottite)].
I took images of the two PA meteorites, and the mold & cast of The Bald Eagle, and any other meteorite in the collection that had a mass of more than 100grams. [See Image Gallery below.] The lighting conditions in the basement storage area were very poor for photographic purposes, so I had to devise a "light-box" out of two desk lamps, a plastic crate, and a white garbage bag. I apologize to Marc and the Carnegie Museum, if the image quality is below standards.
While taking images, I casually broached the subject of "why there were no meteorites on display in the museum?" And Marc replied that "no one person gets to decide unilaterally which mineral specimens get to be displayed. It's done more by committee." He had to admit, somewhat apologetically, that there may have been a perception developed over the years, rightly or wrongly, that the "public wasn't all that interested in meteorites"! He couldn't justify this "perception" but he thought that it went all the way back to 1988 and the "Pennsylvania Meteorite" Exhibition, and possibly the attendance figures at that time may have been below expectations. I assured Marc that would not be the case now, and that the public's interest in meteorites has been at an all-time high, probably ever since 1996. And I offered to Marc the loan of my Los Angeles Mars-rock meteorite, should he want to exhibit some "Rocks from Mars and the Moon", and I assured him there would be many other collector/dealers that could match my offer. (Almost guaranteed there would be an increase in museum attendance, if the exhibit were to coincide with NASA's next announcement about Mars.)
Time went by quickly and I didn't get to photograph every meteorite in the Carnegie Museum collection, but I did accomplish my mission.
In conclusion, I would like to thank the Carnegie Museum of Natural History mineral collection curators, Deb and Marc Wilson, for taking time from their busy schedule and in helping me take images of the meteorites stored in their collection. Hopefully the time will soon come again when the general public can see these "visitors from space" first-hand.
---
Bob's Findings Article for June 2011 – Gallery of Images: Pennsylvania Meteorites – in the Carnegie Museum of Natural History
More images of "The Bradford Woods" stone in the CMNH Collection:
The side showing ?"19330″?
The side showing the "21333" CM No.
A view of the "bottom"-side
A view of the cut corner showing fresh interior
Another view of the "top"-side
mis-labeled as "Achondrite"
Actually an L-chondrite from Marshall Township in "Allegheny County"
More images of "The Shrewsbury" slice in the CMNH Collection:
The "label"-side
The "top"-side
Another view of the "top"-side
A close-up view of the label
A close-up view of the kamacite-bands
Another view of the "bottom"-side
More images of "The Bald Eagle" replica in the CMNH Collection:
A resin-cast replica of the "foot"-shaped iron meteorite
A great "side-view" of the resin-cast replica
Another view of the"top"-side of the resin-cast replica
A close-up view of the "mold" from which the replica was cast
Another view in incandescent light of the "top"-side of the resin-cast replica
---
References:
Link to the Meteoritics & Planetary Science (M&PS) website for their:
Meteoritical Bulletin Database with a great search engine for formally-named meteorites…
Wikipedia – image of:
Hillman Hall of Minerals and Gems
List of all "Pennsylvania" meteorites in the Meteoritical Bulletin Database:
http://www.lpi.usra.edu/meteor/metbull.php
Name
Status
Fall
Year
Place
Type
Mass
Bald Eagle
Official
1891
Pennsylvania, USA
Iron, IIIAB
3.2 kg
Black Moshannan Park
Official
Y
1941
Pennsylvania, USA
L5
705 g
Bradford Woods
Official
Y
1886
Pennsylvania, USA
L
762 g
Chicora
Official
Y
1938
Pennsylvania, USA
LL6
303 g
Mount Joy
Official
1887
Pennsylvania, USA
Iron, IIAB
384 kg
New Baltimore
Official
1922
Pennsylvania, USA
Iron, ungrouped
20 kg
Pittsburg
Official
1850
Pennsylvania, USA
Iron, IAB-MG
600 g
Shrewsbury
Official
1907
Pennsylvania, USA
Iron, IAB-sLL
12 kg
---
Link to the Open Library website – an initiative of the Internet Archive:
Meteorites found in Pennsylvania — General Geology Report G-2. (1967) Harrisburg: Pennsylvania Geological Survey. (552.6 S87)
Another link to Report for subscribers to DCNR:
Meteorites found in Pennsylvania – General Geology Report G-2. (1967) Harrisburg: Pennsylvania Geological Survey. (552.6 S87).
Stone, Ralph W., Eileen, M. Starr.
My previous articles can be found *HERE*
For for more information, please contact me by email: Bolide*chaser